| | |
| --- | --- |
| Starting Bid: $9.99 | Winning Bid: $45.97 |
| Paid: $4.00 | From: Thrift Store |
| Ended: 06/15/08 | Winner: Minden, LA |
In a previous post, I wrote about an estate sale where DH found a box of vintage yearbooks. That find netted us close to $300!
After leaving that estate sale, we stopped at a small community thrift store. I was not really finding much, but after a few moments DH approached me holding this yellow & blue jar. I became excited when I saw that it was made by SPODE. Did I not say DH has a good eye? Even though it was priced at $4.00, more than what I normally like to pay, it came home with me.
I knew Spode was a good brand, but I am not an expert and was not sure how desirable this jar was. I started the bid at $9.99 to cover my investment and was thrilled when it sold for over $45 … more than 11 times what I'd paid! Thank you, DH!
History: Pottery has been manufactured at the Spode Church Street site since around 1750; and as early as 1762, the Spode family worked in pottery in Staffordshire.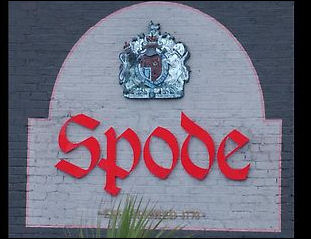 Josiah Spode worked in a number of partnerships before going into business for himself in the town of Stoke-upon-Trent in 1767; and in 1776 he completed the purchase of what became the current Spode factory. He is credited with producing what has been described as the single most significant development in the history of his industry – the perfection of the formula for fine bone china.


The business was carried on through his sons at Stoke until April 1833 and were succeeded in the same business by Copeland and Garrett. The partnership continued until 1847.

After 1847 the business continued as W.T. Copeland and Sons until 1970. After 1970, the same factories and business continued under the name 'Spode Ltd'; and in 2006, the business merged with Royal Worcester. However, the merged company entered administration in November 2008.

In April 2009 Portmeirion Pottery purchased the Royal Worcester and Spode brands, together with some of the stock, after their parent company was placed into administration the previous November. The purchase does not include Royal Worcester and Spode's manufacturing facilities.